ELECTRONICS HOBBY CLUB
DA-IICT | GANDHINAGAR | GUJARAT, INDIA
---
RECENT ACHIEVEMENTS
---
BLUETOOTH APP & LINE FOLLOWER ROBOT WORKSHOP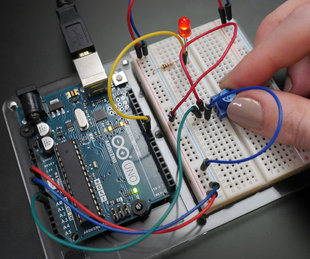 The workshop catered to groups of 5 entrants who got to take robokits containing a Bluetooth module, an Arduino, a set of motors, a castor wheel, 2 wheels, jumper wires, a battery, a motor driver and a voltage regulator ( LM 7805 ).
The workshop was aimed at training every participant four main tasks :
1. Assembling the basic chasis of a robot
2. Creating a bluetooth controlled robot
3. Creating a line following robot
4. Creating a bluetooth app

The workshop was tailored to tend to the requirements of freshers. The entrants for the workshop were mostly 1st year engineering students from DA-IICT and IIT Vadodra.
All participating teams could run their robots manually and at least achieve 3 of the 4 aims of the workshop. The workshop concluded on a successful note.